There are many reasons to change the chain and sprocket kit on your motorcycle, but the most common one is to increase acceleration. Replacing your stock 530 or 525 pitch chain and sprockets with light weight 520 bits is one of the Best "Bang for the Buck" performance mods you can do to your motorcycle! Not only will a 520 chain and sprocket conversion improve acceleration, it will improve wheel horsepower and torque by reducing rotating mass. We have tried countless chains and sprockets over the years, and our SuperBike 520 Kit contains the highest quality and most durable components we have found in our years of testing at the track and on the dyno!
Our SuperBike 520 Kit includes:
RK GXW XW-Ring Chain
The GB520GXW is RK's premium quality 520 XW-Ring chain. XW-Ring chains are the best high-speed, extreme heat performance chains available. So, if you've modified your ride into an extreme high-speed machine, you need the strength and performance of GB520GXW. With a maximum tensile strength rated at 8,800 foot pounds and suitable up to 1000cc streetbikes and 750cc off-road bikes, GB520GXW can handle anything you dish out!
3.77 lbs. per 100 links
Includes rivet type master link
XW-Ring
Made in Japan
Driven or Vortex Lightweight Steel 520 Front and Rear Sprocket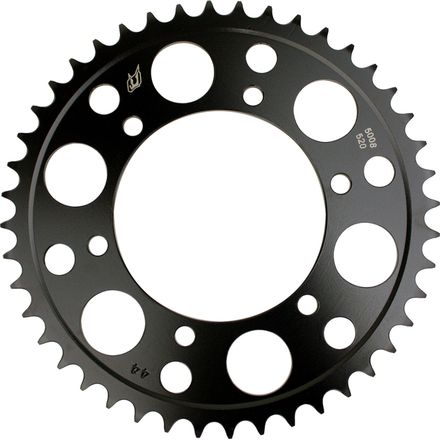 Every Driven Sprocket is manufactured to a rigorous standard of quality which is unsurpassed in the industry.
One of the lightest 520 steel sprockets available today.
Designed using Driven Racing's proprietary EST Technology.
Driven steel sprockets are manufactured using only the highest quality 45C steel available.
Steel sprockets are heat treated and then quenched for maximum strength and durability.
The dynamic electro-static plating process finishes the sprocket to give it the unique driven evo-spec look.
Every sprocket is guaranteed against defects in materials and workmanship; performance and reliability in one sprocket.
Lowered surface to remove unnecessary weight.
All Driven rear sprockets are drilled to reduce overall weight.
The sprockets come in 520 pitch to cover most sport bikes and aftermarket wheel sets on the market today.
Available in a wide variety of tooth counts.
Made in the U.S.A.
The full retail cost of these parts purchased individually is $250 (on most makes/models), but when we bundle them together in our SuperBike 520 Kit you
save $55
 and shipping is
FREE! 
When placing your order, simply include your motorcycle's make, model and desired gearing (stock gearing will be assumed if not specified) and we will process your order within 24 hours! If you have questions about gearing recommendations, please email us at support@2wheeldynoworks.com.