This Performance Package combines the unrivaled performance of the Graves FZ/MT-07 Full Titanium Exhaust system, the precision fuel control of the FTECU Active Tune system and our custom 2 Wheel DynoWorks ECU flash! The full retail value of everything included in this Performance Package is $1,934.99 plus shipping, but when we bundle this Performance Package together you save $245 and shipping is FREE.  

Included in this Performance Package:
Graves Full Titanium FZ/MT-07 Exhaust 
Graves Motorsports Full Titanium Exhaust System for the 2015-2017 Yamaha FZ-07 / 2018 MT-07 with carbon fiber canister. GMS Exhaust systems are designed for the elite rider seeking top of the line performance, fit, finish and value. This FZ07 exhaust system was developed using the same technology that has powered Monster Energy Graves Yamaha riders to 6 consecutive Moto America / AMA Superbike championships along with numerous 600cc titles. This product is intended for closed course competition use only. Use of this product for any other purpose is strictly prohibited.
Features:
New Diamond Shaped Can Design (Carbon Fiber Can with Carbon End Cap), configured to balance the FZ-07's body lines and produce the best balance of power.
Cans mount directly to the motorcycle by using a stealth carbon fiber strap, saving weight and streamlining looks.
Constructed from premium aerospace grade titanium
Machined joint fittings
Billet Hard Anodized 7075T651 Aluminum Flanges
Dual Lamba sensors come standard. Featuring stock sensor and Dynojet Auto Tuner sensor adaptability.
Advanced welding process showcases laser perfection welds
Tapered header down pipes
Come standard with a GMS exhaust insert to quiet sound (removable).
FTECU ActiveTune
This Kit lets your FTECU equipped bike fine tune the fuel mapping as you ride!
Once installed and activated, the ActiveTune kit monitors the fuel mixture making fast and consistent changes to mitigate changing fuel requirements. Our breakthrough system replaces your inadequate stock O2 sensor with a proprietary FTECU lambda controller and the latest generation Bosch LSU 4.9 sensor. Link to video explaining use of Active Tune: Active Tune Video
Note: Stock is compatible with a stock wire loom, YEC is compatible with a YEC (Race) wire loom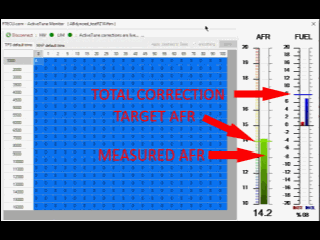 This kit includes: – 1 FTECU YAM-01 Lambda Controller – 1 Bosch LSU4.9 wideband O2 sensor (M18 x 1.5 thread) – 1 Product Activation Card
2WDW Custom ECU Flash
ECU flashing is not only more cost effective than other tuning alternatives, but it is far superior because it also allows for more precise tuning of fuel maps which automatically compensate for changing atmospheric conditions. It allows for modification of parameters that are not otherwise tunable, such a throttle valve actuation. 
Click to read our reviews on the MT-07 Forum
Our mail in ECU flash service also comes with unlimited ECU re-flash services as long as you own your motorcycle. All future re-flash services are free of charge. The only cost you are responsible for is return shipping of your ECU.
Custom Flashing Service:
– Professional cylinder specific fuel map modification
– Removal of all gear based or speed dependent restrictions, TRE
– Optimized ignition timing maps for 91+ octane
– Reduce Fan Temps
– Disable Injector Decel Cut
– ECU Based Quickshifter Enabled
Just complete the following steps
STEP 1: Place your order below.
STEP 2: Remove your ECU and package it for shipment to:
2 Wheel Dynoworks - 13209 NE 126th Pl STE 460 Kirkland, WA 98034
When mailing in your ECU, please include a small note with your contact details and list of modifications done to your bike. You may include this in your package or email it to support@2wheeldynoworks.com
STEP 3: Receive your Performance Package, install, and enjoy your completely transformed 2015-2020 FZ/MT-07 !