This Performance Package combines the performance and weight savings of the M4 Carbon Slip-On Exhaust system and our custom 2 Wheel DynoWorks ECU flash! The full retail value of everything included in this Performance Package is $749.99 plus shipping, but when we bundle this Performance Package together you save $105 and shipping is FREE.

Included in this Performance Package:
FZ-09 / MT-09 / FJ-09 / XSR900 M4 Carbon Slip-On Exhaust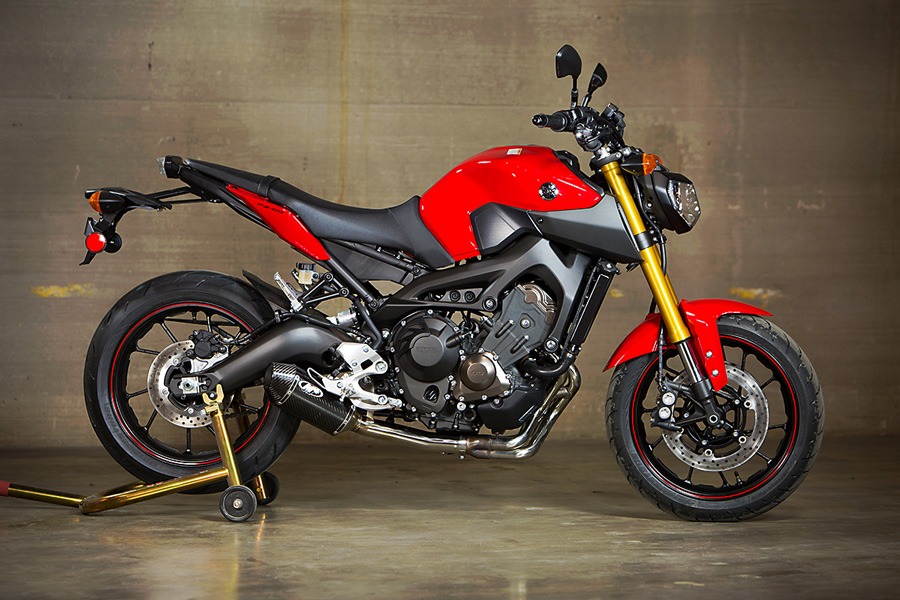 M4 Exhaust manufactures exhausts which add power and a more race-inspired sound to your bike as well as lowering the overall weight. Extra time on research and development ensures your exhaust has the ultimate in quality workmanship, ease of installation, and the best performance possible for your motorcycle. M4 Exhausts are available in both Standard / Race and GP Series mounting configurations.
The Standard / Race Series Exhaust mounts in the stock position; M4 supplies you with a race bracket to allow the removal of your passenger foot pegs, if desired.
Whether hitting the track or sharing a ride with someone, this system has you covered.
The M4 Standard / Race Series Slip-On Exhaust has a built-in baffle, tuning the exhaust note for a crisp head turning sound.
Unique silencer packing gun insures even distribution of packing material.
M4 has built a quality fitting exhaust that is a breeze to install; all mounting hardware and instructions included.
The slip-on will shed some weight over stock to give your sport bike improved power-to-weight ratio.
M4 slip-ons are designed for use with the stock header assembly.
Up to 15 horsepower gain (With 2WDW ECU Flash)
Satin M4 aluminum name plate.
Note: All M4 systems are designed and intended for closed-course competition use ONLY.
2WDW Custom ECU Flash
ECU flashing is not only more cost effective than its alternatives but it is superior because but it also allows for more precise tuning fuel maps which automatically compensate for changing atmospheric conditions and it allows for modification of parameters that are not otherwise tunable such a throttle valve actuation. Click to read our reviews on the MT-09 Tracer Forum
Our mail in ECU flash service also comes with unlimited ECU re-flash services as long as you own your motorcycle. All future re-flash services are free of charge. The only cost you are responsible for is return shipping of your ECU.
Custom Flashing Service:
– Remove Throttle-by-Wire restrictions
– Standard engine braking reduction
– Disable Injector Decel Cut
– Professional fuel map modification
– Removal of all gear based or speed dependent restrictions, TRE
– Optimized timing maps for 91+ octane
– Disable AIS valve (always closed)
– Reduce Fan Temps 205°F
– Default to A-mode (If requested)
Just complete the following steps:
STEP 1: Place your order below.
STEP 2: Remove your ECU and package it for shipment to:
2 Wheel Dynoworks - 13209 NE 126th Pl STE 460 Kirkland, WA 98034
When mailing in your ECU, please include a small note with your contact details and list of modifications done to your bike.
    You may include this in your package or email it to support@2wheeldynoworks.com
STEP 3: Receive your Performance Package, install, and enjoy your completely transformed FZ-09 / MT-09 / FJ-09 / XSR900 !