How the Rev2™ Throttle Works
The Rev2™ throttle has several different size reels that will change how much twist is necessary for the throttle to completely open the carbs or throttle bodies on a motorcycle. The larger the reel is, the shorter the twist. Each reel size will shorten the twist by about 10 degrees. If your stock throttle has a 40mm reel and stock twist is 90 degrees (1/4 turn), the 45mm reel will reduce the twist to 80 degrees and the 50mm reel will reduce it to 70 degrees. The 35mm reel will increase the throttle twist to approximately 100 degrees. This is just an example; every model of motorcycle is different.
The included cam reel has a progressive profile that allows the throttle to act like a sensitive, long twist throttle during the initial small throttle openings for precise control and then acts like a more aggressive short twist throttle at large throttle openings, progressively shortening the amount of twist needed to reach full throttle.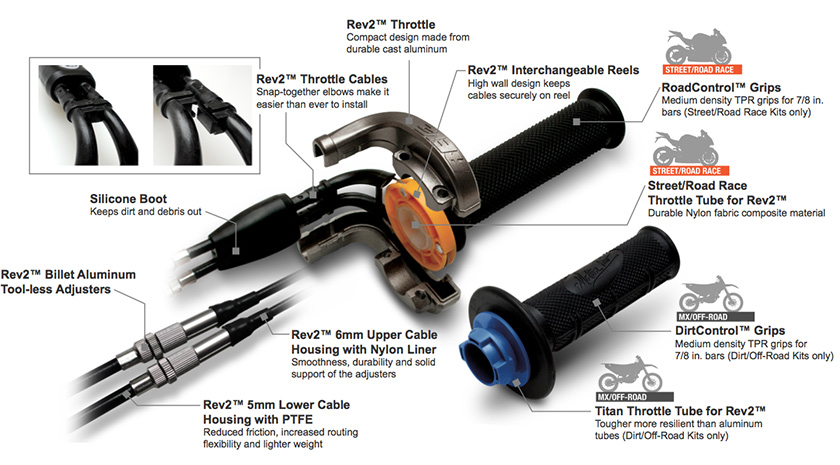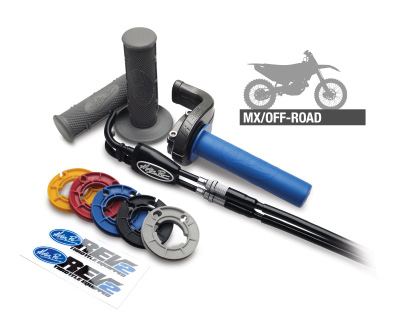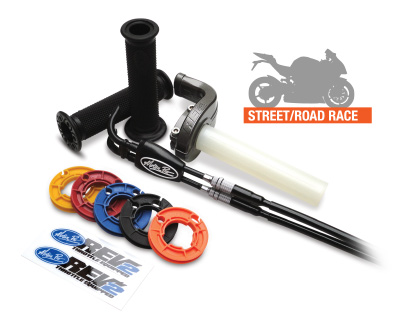 The most advanced variable rate throttle in the world
The second generation of our innovative reel changing system lets you tailor the throttle rate to riding conditions and rider preference
New ultra compact housing with snap-together elbows make it easy to install and change reels
Sleek new design requires less handlebar space for lever clearance and throttle position
Use smaller reels for slower throttle rate and larger reels for faster throttle rate
Included cam reel provides progressive throttle response preferred by some riders
Unique reel design allows fast reel changes
Cable boot keeps dirt and dust out for reliable and smooth operation
Billet aluminum in-line cable adjusters for easy installation and adjustment
Lower section of cables use 5 mm housing with PTFE liner for reduced friction, increased routing flexibility and lighter weight
Upper section of cables use 6 mm housing to provide solid support of adjusters
Simple to install and maintain
Designed by Motion Pro
Patent pending
Kits Include
Complete Rev2™ Throttle Assembly with throttle tube (MX/Off-road kits Include Titan™ Throttle Tube)
High quality Motion Pro black vinyl cables (specifically designed for your bike)
5 interchangeable reels: 35, 40, 45, 50mm and cam reel (Street/Road: orange or MX/Off-Road: gray)
Set of Motion Pro Grips (Street/Road Race kit: RoadControl™ grips, MX/Off-road kit: DirtControl™ grips)
Rev2™ Throttle Equipped decal set
Printed color instructions
Rev2 Kit Suggested Retail $164.99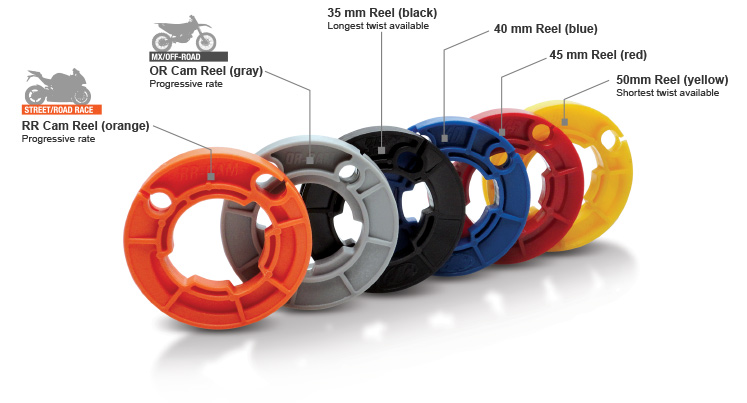 Interchangeable Reels
Standard Reels
Kit includes 4 standard reels: 35 mm (black), 40 mm (blue), 45mm (red), 50mm (yellow)
Unique reel design allows quick reel changes without readjusting cables
High wall design keeps cables securely on reel
Color coded reels for easy identification
Heavy-duty nylon composite for increased strength and smooth operation
MX/Off-Road Kit (OR Cam)
Off-road oriented cam profile reel for the Rev2™ Throttle
Provides progressive throttle roll-on for enhanced throttle control
Eliminates strong initial hit from modern fuel-injected 4-strokes
Street/Road Race Kit (RR Cam)
Sportbike oriented cam profile reel for the Rev2™ Throttle
Profile acts like a slow throttle to 40% opening, them progressively changes to fast profile from 70% to 100% throttle
Allows rider greater control at lower throttle openings, but acts like racing throttle at higher throttle openings
Good for all levels of riders, experts will appreciate the greater control at the limit, less experienced riders will like the smooth on/off throttle feeling