This Performance Package combines the phenomenal performance of the M4 MC36 Full Carbon Exhaust system, 2WDW ZX6R/636 Airbox Mod Kit, and our custom 2 Wheel DynoWorks ECU flash and Block Off Plates! The full retail value of everything included in this Performance Package is $1,689.99 plus shipping, but when we bundle this Performance Package together you save $300 and shipping is FREE.
Included in this Performance Package:
M4 ZX6R/ZX636 MC36 Full Carbon Exhaust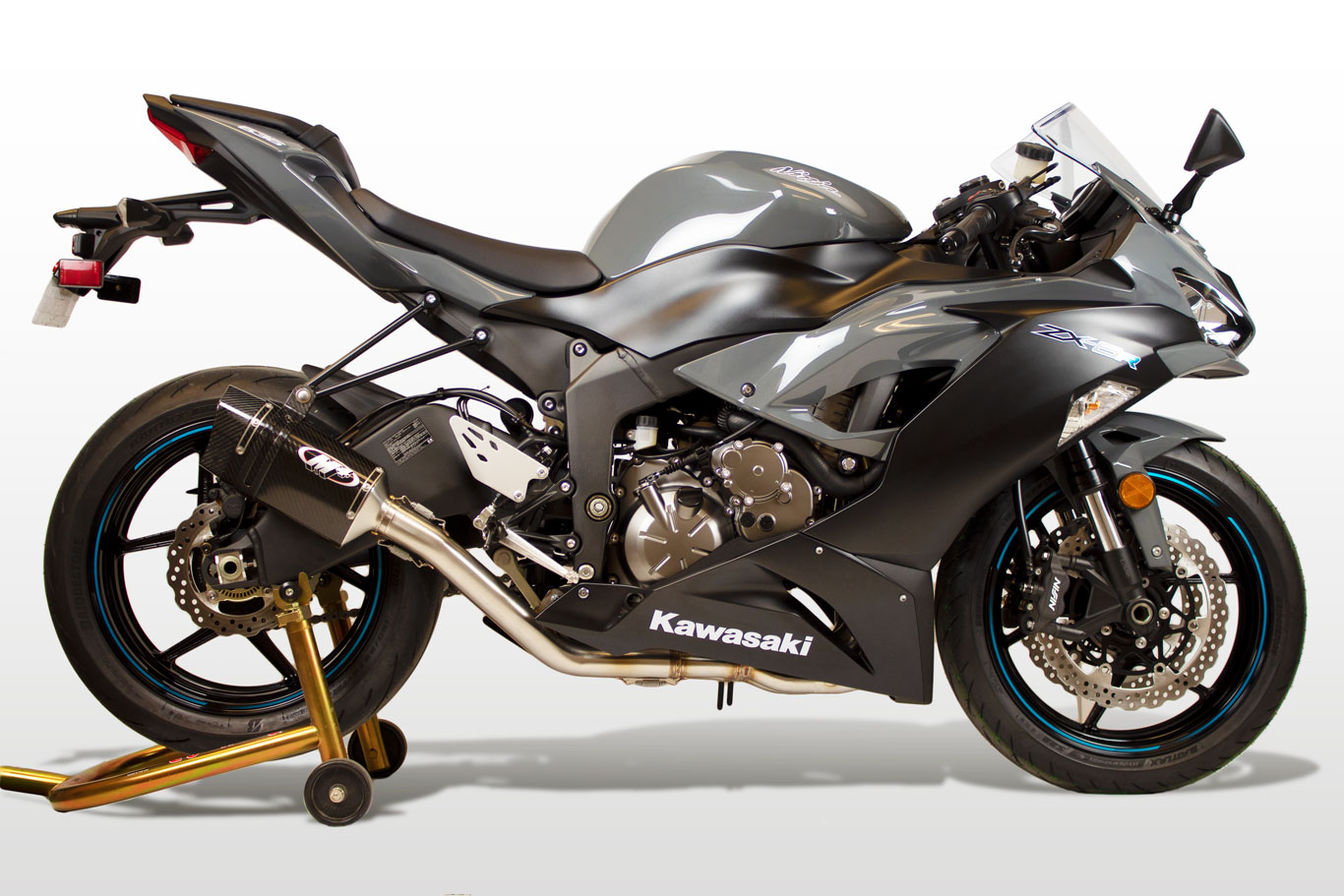 This system was designed to get the maximum performance from your ZX-6R. Whether you are lining up at the drag strip or road racing, this system can't be beat. Removes stock catalytic converter.
Can Use Stock Passenger Foot Peg Mount or Included Race Bracket
Stainless Steel Tubing
Stage 1

 

Q7

 Quiet Insert Sold Separate
Note: This Performance Package comes with the Carbon Fiber muffler standard. Please contact us for pricing on other available muffler finishes!
2WDW ZX6R/636 Airbox Mod Kit

Our Airbox Mod Kit will bolt directly into your stock 2013-2018 ZX6R/636 and produce an additional 8hp over the exhaust and ECU Flash alone! Similar airbox modifications have been found to be so beneficial to the engine's performance that they have been banned by MotoAmerica, because they were seen as unfairly advantageous when performed on some 600 models. Similar airbox kits are as much as $1,400, but we have found a way to modify the airbox components for a fraction of that cost!
2WDW Block Off Plates
Air induction systems (AIS) reduce hydrocarbon emissions. Block off plates seal the inlet ports used by air induction systems. Removing the AIS system will save weight, reduce engine clutter and give us accurate air:fuel ratios which are needed when tuning your bike.
2WDW Custom ECU Flash
ECU flashing is not only more cost effective than other tuning alternatives, but it is far superior because it also allows for more precise tuning of fuel maps which automatically compensate for changing atmospheric conditions. It allows for modification of parameters that are not otherwise tunable, such a throttle valve actuation. 
Our mail in ECU flash service also comes with unlimited ECU re-flash services as long as you own your motorcycle. All future re-flash services are free of charge. The only cost you are responsible for is return shipping of your ECU.
Custom Flashing Service:

Custom IAP Fuel Maps
Custom TPS Fuel Maps
Custom Secondary Throttle Plate (STP) Opening Maps
Custom Ignition Timing Maps
QuickShifter (requires Race Tools)
Launch Control (requires Race Tools)
Pit Lane Limiter (requires Race Tools)
Race Shift Pattern (requires Race Tools)
Custom Injector Balance Maps
Custom Ram Air Maps
Adjust RPM Limiters
Adjust Fan Temperature
Custom Exhaust Valve Opening Maps
Disable Stock O2 Sensor
Disable Fuel Cut
Disable PAIR Valve
Disable Exhaust Valve
Disable Tip Over Sensor (TOS)
Just complete the following steps
STEP 1: Place your order below.
STEP 2: Remove your ECU and package it for shipment to:
2 Wheel Dynoworks - 13209 NE 126th Pl STE 460 Kirkland, WA 98034
When mailing in your ECU, please include a small note with your contact details and list of modifications done to your bike. You may include this in your package or email it to support@2wheeldynoworks.com
STEP 3: Receive your ECU, install, and enjoy your completely transformed 13-18 ZX6R!